Sensible Soccer Slot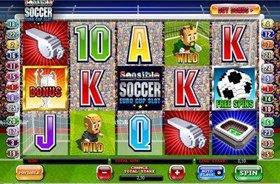 The 1990s was a hotbed for world football. Germany won the World Cup hailed as Italia 90, in 1994 we had our first ever World Cup held in the United States with Brazil taking home the title, in 1998 France won the trophy for the first time when the tournament was held in their own back yard and finally Sensible Software released the cult classic Sensible Soccer on both the Atari, Amiga and PC.
The game was first released in 1992 and it featured the first ever birds-eye view football game. In the coming year's the game had it's reincarnations on the Playstation and Xbox but nothing could match the interest that it generated during it's first released.
Fans of the game can now enjoy a new Sensible Soccer renaissance but instead of being released as a video game it is being released as a video slot machine. The new five-reel, 25-pay line slot machine features a fantastic Euro Cup bonus feature where you place your bet on who you think is going to win the Euro Cup and you watch their progress through a simulated tournament.
There are three wild symbols in the game of Sensible Soccer and each of these symbols substitute for all other symbols to create winning combinations.
There is also a Freespins mode that is activated when you hit three or more scatter symbols. Finally, the game has a progressive jackpot, which is activated when you have 10 or more goals scored in one of your team's matches. The definition of one of your team's matches includes both home and away legs. So if you draw 3-3 in the first leg and then win 4-0 in the second leg then you win the progressive bonus.
Play Sensible Soccer Slot at Party Casino
Soccer News:
Manchester City Hit by Aguero Blow